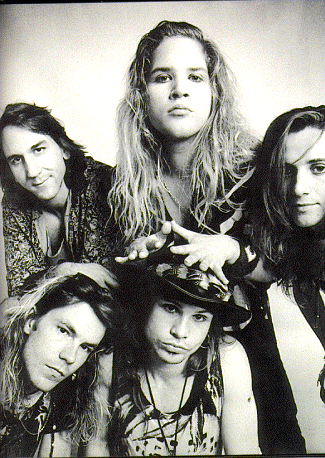 Entry written and researched by: Kristy Parker
Think of it...its the late 80's, you're in Seattle, Washington cupping your ears, trying to figure out the "new" sound that seems to be everywhere. You already thought that George Michael was beginning to seem like the anti-christ of rock All the glam pop/rock of the late 70's is dying out, and something darker and heavier is fusing with the remains. No longer is every band trying to get on the space ship with Ziggy Stardust and the Spiders from Mars; they are trying to find a space somewhere grounded on this planet. Their elevation comes instead from a wall of muddy sound coursing through Marshall amps as tall as small buildings. The aura of the music has the sneer of Sid Viscious and the stage antics of the over-the-top Elton John. Who shall herald in this change, be the ringleader with the magic guitar pick of gold...and the voice that can be heard above the thunderous crowds?
Many say that Nirvana broke through with the most innovative force, and they would be quite wrong. Kurt even admitted on numerous occasions that his music was greatly influenced by other artists such as the Pixies and The Melvins. So he was pretty much putting a megaphone up to sounds already circulating the alternative music scene. Yes, there was Soundgarden, The Melvins, Alice In Chains, Nirvana...but there was also one band that stood out amongst them all: the infamous Mother Love Bone.
Never heard of them? Well, that could be because they never got the chance to shine like so many of the other Seattle bands. Like so many other sad rock n' roll stories, their lead singer Andrew Wood (from the band Malfunkshun), died of a heroin overdose before the release of their first album, Apple. The other reason you might still be scratching your head could be because two of the band members went on to form an even more sucessful band, some would say the most powerful rock band fame wise other than U2: Pearl Jam.
Stone Gossard and Jeff Ament, while best known as guitarist/bassist for Pearl Jam, actually wrote some of their greatest stuff musically during their short lived musical project, Mother Love Bone. Mother Love Bone mixed the beautiful piano arrangements of Elton John withAndrew Wood's vocal stylings (somewhere between the sexual howl of Robert Plant and the flambuoyant energy of Freddie Mercury). On top of all that, add the scorching guitar licks of Stone Gossard in his post-glam/punk glory, and you have the best band to come out of the Seattle scene. Or at least, the band with the most outright potential for earth shattering rock. I suppose we'll never know for sure what could have been since there is only one album, some bootlegs, and some old frayed concert t-shirts.
I write this article not to say I have less love for bands like Pearl Jam, I just think that many grunge fans are missing out if they don't also have a place for Mother Love Bone beside Pearl Jam's debut Ten. Since I'm not the kind of girl who wants to leave her readers hanging, I'm going to leave you with two music videos. The first is Pearl Jam covering my favorite Mother Love Bone song by far, "Chloe Dancer-Crown of Thorns." Then, I'll leave with you with Star Dog Champion, a rare video from Mother Love Bone. Let me know what you think, seriously. I'm way suprised nobody in here ever mentioned this band before because I know most of you are obessesed with grunge and Pearl Jam.
Some trivia for you: did you know that the band Temple of the Dog was formed to create such tribute songs as "Say Hello to Heaven" for the late Andrew Wood of Mother Love Bone who was Chris Cornell's roomate? The band included members of Sound Garden and Pearl Jam. Also, Eddie Vedder sings lead vocals on "Hungerstrike."
"Chloe Dancer/Crown of Thorns" Mother Love Bone cover performed by Pearl Jam; from the 2003 DVD, Live at the Garden.
"Stardog Champion" rare video by Mother Love Bone circa 1989