Goodbye, my friends...thanks for a good 5 year run!
I really haven't been blogging much anymore...I guess I've been doing it for too long. For a critical period of time I felt like I couldn't relate with the people around me, so I resorted to computer geekiness to satisfy my need for companionship. One summer activity I undertook, just to give me something "productive" to do was teaching myself html so I could make a fansite dedicated to John Cusack. Its called
John Cusack: Hollywood Underdog
and trust me, even though I still think Mr. Cusack has made some great flicks (and I just bought the cult classic Tapeheads on DVD) I have a much more healthy appreciation of him now. That website led me to create a much more emotionally satisfying undertaking, the music blog,
Vintage Rock
Five years later, I just don't feel like my heart is in running the same site, no matter how much it has meant to my life. Without Vintage Rock, I doubt I'd be the huge musical guru/geek I am today and that would be a very sad thing. I'd probably still be stuck listening to Hanson and Led Zeppelin on repeat (not that I don't LOVE those two bands still). I just feel like nobody is reading what I take the time to research, write, and present. I have also found a place where I can reach a wider audience. Its the ecletic musical community,
Last Fm.
Its a site that documents everything you listen to on your computer and it charts your musical progression. It is kind of addictive, but its the perfect site for the not so casual music appreciator. It allows me to journal and continue writing about music, but I don't have to have the responsiblity of trying to promote a blog out in the middle of nowhere. Don't get me wrong, blogdrive.com is a good place to blog, but its hard to reach your core audience when not a lot of people who would be insterested in reading your work can even find the bloody site.
So I guess, unless something drastic happens to change my mind, I will officially be ending my reign as leader of Vintage Rock. If anyone wants to take over and breathe new life into this blog, just let me know. I'll hand over the keys...Its been really hard for me to come to this decision, but I just don't have the time to dedicate to it anymore and I don't want to do a half-assed job at it. I'm glad that I'm busy out doing things in the real world and that I'm not always tied down to my keyboard and the cyber community. If I'm not hanging out with friends, or doing homework, I'm spending time with my significant other, Kerry Cutsforth. He's the light of my life, and all of that cheesy nonsense. I know, I'm turning into one of those couples you see holding hands on the street that make you want to puke....and I'm okay with that. I have great friends, ambitions with my artwork, great tunes to listen to, and a boyfriend who truly understands and loves me. I think its healthy that I'm progressing in my life and I wish all who read Vintage Rock the same happiness and fufillment that I have. Continue on "rockin' in the free world" and you can always come visit me at the following places I still frequent:
my Last FM. page....I'm vargas_girl
my myspace page
Currently listening to:
A River Ain't Too Much to Love
By Smog



jinkesvelma @ 2/27/2007 |








Music Updates
jinkesvelma
November 19th 1985 (Age 32)
Female
La Porte City
I made this playlist at MyFlashFetish.com.
Check out this MySpace MP3 Player!
Featured Song:
"Dead Road 7" by The Kills
There has been much coming and going of the authors here at Vintage Rock. If you have not posted an entry in over two months, I'm either deleting you from Vintage Rock or marking you as inactive on the side-bar. I don't think its fair to give authors credit here if they don't post any entries. Its nothing personal, I'm sure you all understand.
Kristy (founder)
Aims (co-founder)
Shay (non active co-founder)
Jess (non active co-founder)
Morgan (non active co-founder)
Kerry

What Is "Vintage Rock" About?
Vintage Rock has officially been on the internet in various forms for about five years now. I started it on a whim of boredom at the terrible, bolt.com. I met some great friends there, and we ended up forming a super-group; a forum where it was okay to speak our minds about anything and everything music. And since there were multiple authors here, we were able to learn about an eclectic variety of music news, recommendations, and bands.
In the last few years, many of the authors who helped co-found this blog quit posting entries. I'm not bitter about their absence, because I know it takes a lot of time and dedication to write quality articles and posts. I will never forget them, but I think its time I quit expecting them to come back. I'd really like to see Vintage Rock turn back into the place it once was. I really don't forsee that happening though. I do however think it is valid for me to keep up this blog in hopes I can inspire even one person to realize that MTV is not the only way to define one's musical tastes. I know its difficult, and takes a lot of research, but there are amazing bands out there just waiting to be discovered. And that is the purpose of this blog. I've never made one penny for running Vintage Rock, and that's okay. Its worth all the hard work when I hear one person say, "Hey, that band kicks ass!" So yes, if you like Vintage Rock and what we stand for, don't be afraid to comment on an entry or say hi on the tag-board. The more input from you readers, the more likely I am to be inspired to post more entries. Anyway, I'm off my soap-box for today. I just thought I'd let you know that things are going to be a bit different here. I'm taking the focus off the side bar and deleting a lot of things I don't find relevant anymore.
Album:
Our Beloved Revolutionary Sweetheart closed with Lowery singing about how "Life Is Grand" in pointed response to "those of you who have appointed yourselves to expect us to say something darker." So when Key Lime Pie came out, its moodier music and imagery, not to mention that soon after the fact the band fell apart on the tour for the album, led more than one person to think those darker times had finally arrived. As it is, the group had already gone through one major shake-up between the two albums -- founding member Segel had taken a powder to concentrate on other efforts, with Morgan Fichter brought in as a replacement violinist. Her abilities were certainly praiseworthy, as the album-starting instrumental "Opening Theme" shows quite well. However, it's definitely not the same band that did Telephone Free Landslide Victory a mere four years previous -- things are more straightforwardly rock here most of the time, perhaps not too surprising in light of Lowery's subsequent work in Cracker. As it is, though, it's excellently conceived rock, with space, moodiness, and more to spare. Consider "Jack Ruby," with its wordless backing vocals, tense rhythms, and thick soloing, or "Laundromat" and its steady but unnerving crunch. It's not all potential melancholia, though -- "June" in particular is an underrated number, celebrating the early summer with sweetness and love (at least up to the increasingly stranger ending). Lowery's singing is his best yet, perhaps a little less prone to wackiness but an emergent, distinct voice all the same, and certainly prone to sing a quirky lyric or two still. The oddest thing of all was that the band actually gained a little mainstream attention on MTV and radio via a cover of Status Quo's psych-era nugget "Pictures of Matchstick Men."--- Ned Raggett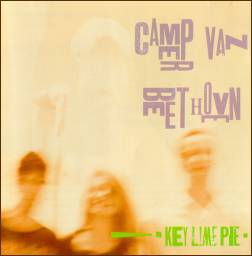 Sing to Me
Links
Archives
Tagboard
Credits